7th – 12th Grade class schedules are not yet finalized. All schedules will be completed and published by July 30th and will be available on webpams. A printed copy will also be available on August 3rd which is Student Orientation Day.

All 7th - 12th Grade students can now purchase Physical Education uniforms at School Time Uniforms. We are anticipating high school students dressing out for PE this school year.

If your child is entering grades 2nd-6th they should be accessing Renaissance to complete their summer reading. A packet went home the last week of school with instructions. It can also be found on the HCS app under documents/summer reading. Summer reading goals must be met by Friday, August 6th. Please access the Renaissance website here:
https://global-zone05.renaissance-go.com/welcomeportal/1643493
. Also, an instructional video for Renaissance can be found here if you are having trouble:
https://youtu.be/MReyZYX46NI

Want to sub at HCS? Houma Christian School is having an Equipping our Subs Training on Thursday, July 29th from 8:30am – 11:00am for anyone interested in becoming a substitute teacher for the upcoming school year. Participants will be trained and equipped on the routines and procedures of being an effective substitute teacher at HCS. We are encouraging everyone that is interested in substituting this school year to attend this workshop even if you have already have worked as a substitute in the past. Look forward to seeing you here.

Attention incoming 11th and 12th Graders: Parents, the scheduling links have been posted in your student's Remind apps, their school emails, the HCS FB, and HCS app. Remember it is a school google form so students will have to access it through their HCS gmail account. The link for 11th graders is:
https://forms.gle/6Q2KSBQUmsTkUPMw5
and the link for the 12 graders is:
https://forms.gle/qjzXrpsq3H3BGdJX8

Attention 11th and 12th Graders: We will be sending out the Google form link to schedule classes for the upcoming school year. The link will be sent through your student's Bible remind as well as through a text message from HCS. The link will go live at noon tomorrow (Thursday, July 8). The completion of the form is time sensitive, so please complete as soon as possible. Space is limited in some classes, so it is a first come, first served basis.

We are super excited to invite ALL STUDENTS, STAFF & FAMILIES in the tri-parish area to a Back to School Pep Rally! There will be tons of games and prizes, praise & worship and of course, lots of laughs! You can meet new friends, reunite with your familiar ones and receive a message of hope for this upcoming school year. We are meeting at Living Word Church, 1916 Hwy 311 in Schriever on Friday, July 30th 6-7:30pm. Would you help us spread the word by sharing this post. Remember - this is an open invite for ALL schools. We can't wait to see you there!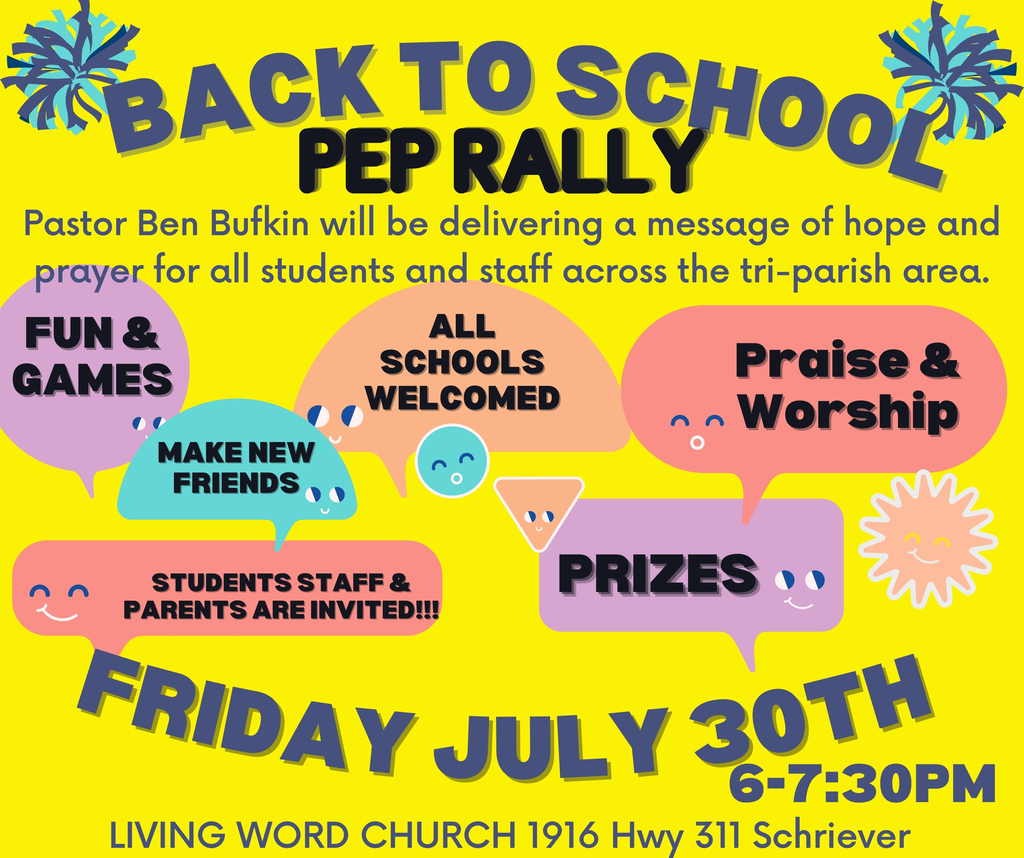 Houma Christian School is currently looking for a Head Varsity High School Volleyball coach. The ideal candidate will have successful coaching experience at the high school level. The candidate will have a strong Christian Faith and should be able to share their testimony of how they have come to faith in Jesus Christ, our Lord and Savior. The position is a full-time teaching position comprised of Health & PE Classes. Interested candidates should complete an application(teaching application on our website) and send to
jimmy_champagne@houmachristianschool.com
.

All boys in grades 6th - 8th interested in playing football this coming school year; there will be a meeting at school on Wednesday, July 7th from 6:00pm - 7:30pm. Please bring cleats and tennis shoes. Parents are asked to stay for the first 30 minutes of the meeting.

Shoe Carnival sale July 23-25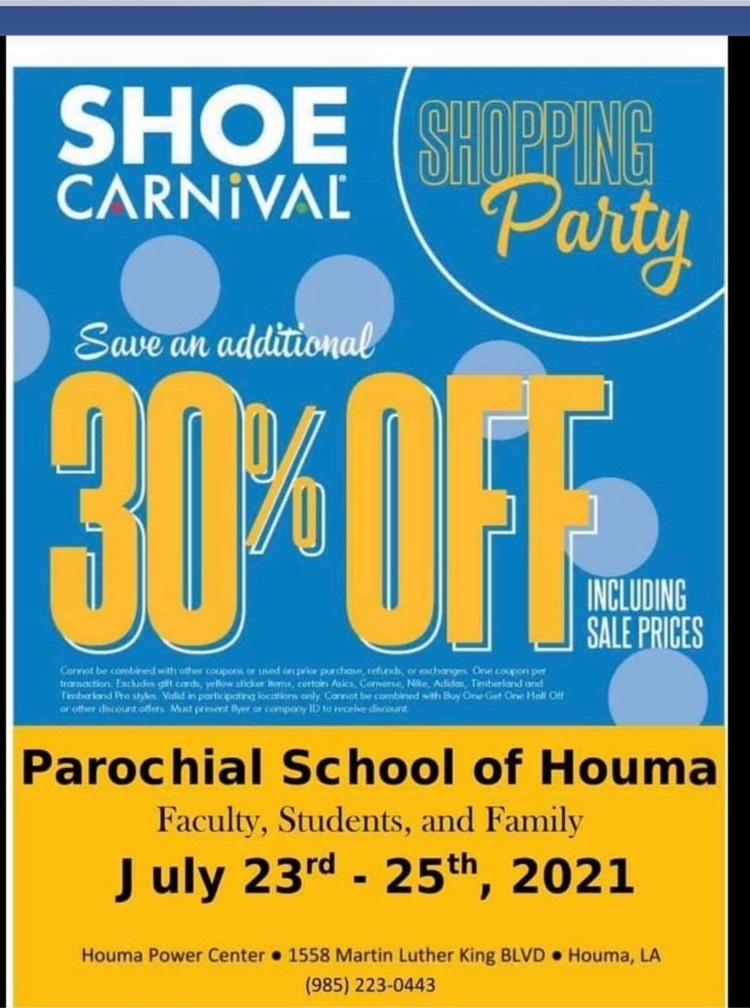 Let's give a huge shoutout to our maintenance crew for the tremendous job they have been doing this summer getting our building ready for next school year. Thanks for all your hard work!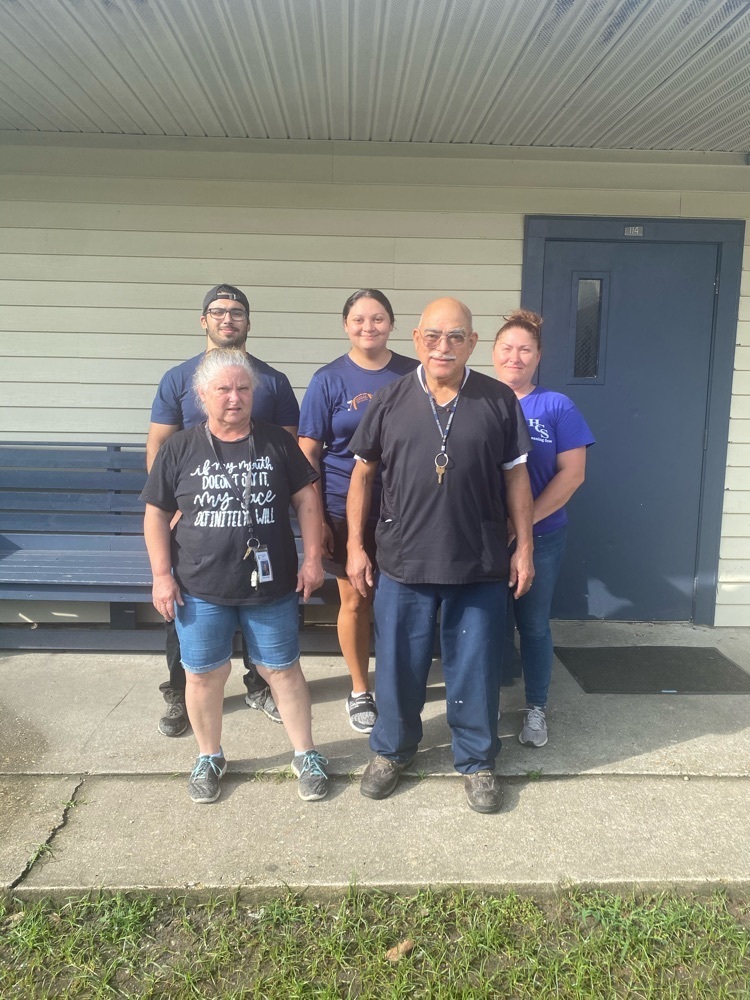 Att: 10th and 11th Graders: HCS Parents- We have mailed out the results of the Pre-ACT 8/9 and the Pre-ACT. This data includes valuable information on how your child scored for each subject area. Students will receive their answer keys and booklets to review in class when we return in August. They will be able to bring that part home then after working with their teachers on corrections.


Congratulations to the students selected to the 21/22 Boys Varsity Basketball team!

Check our new PK-12th grade shoe policy for the 21/22 school year.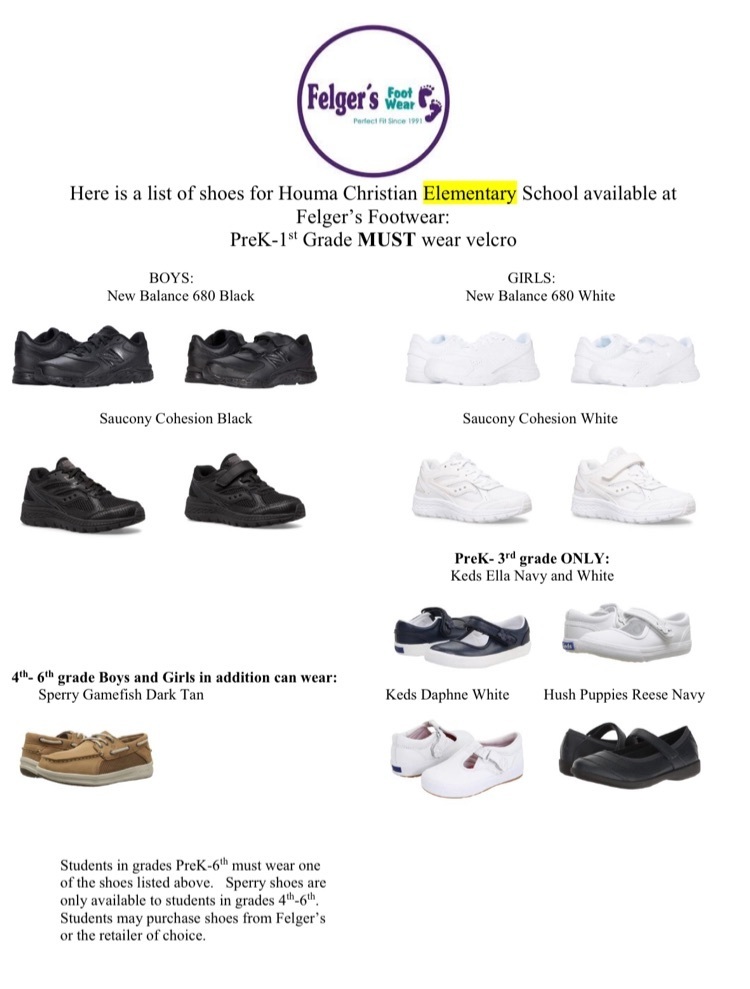 Congratulations to our 21/22 Softball team!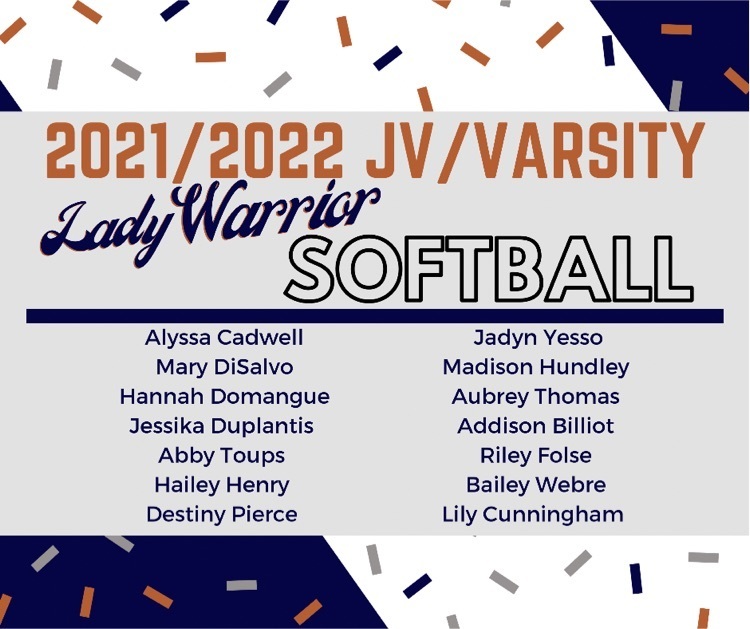 Tomorrow, Thursday May 27th, elementary students should report to Living Word Church for the end of the year awards. All 1st-6th graders will be receiving an award. Warrior day dress is appropriate for all students.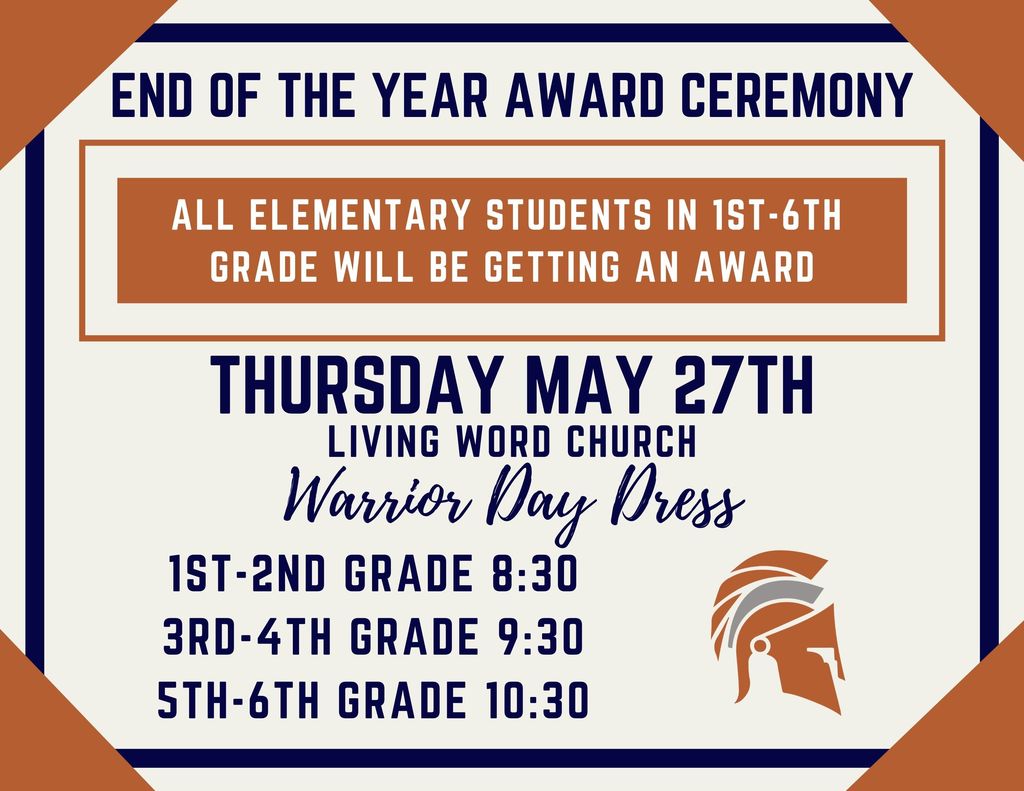 Today our 8th grade Earth and Space Science students launched their rockets!!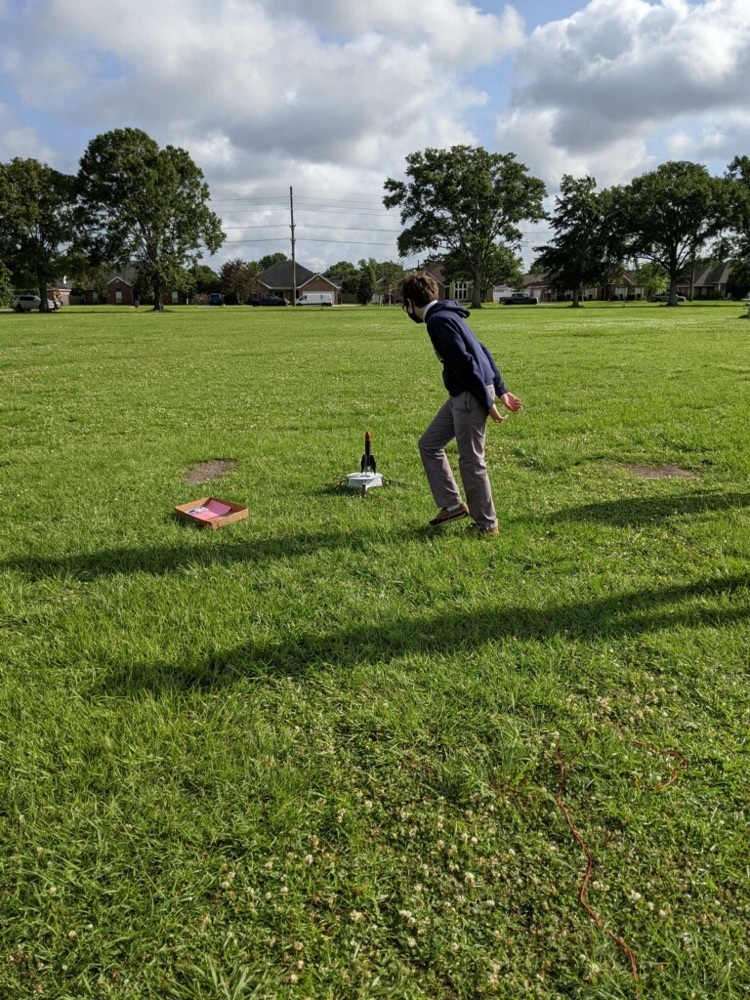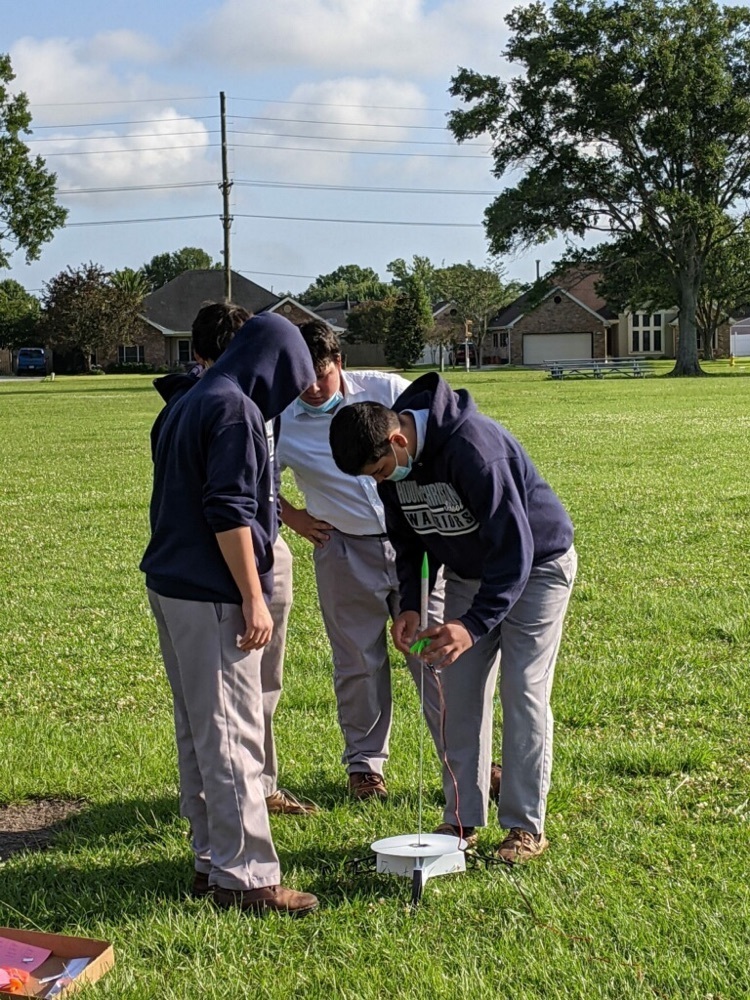 Basketball tryouts are coming up, this Thursday! Help us spread the word by sharing this post. Go Warriors!